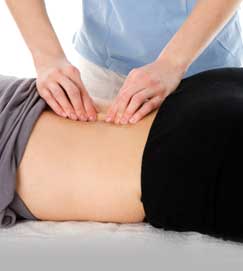 Most people think of massage therapy as relaxing on a soft bed and someone lightly rubbing their muscles as they start to fall asleep. Well, therapeutic massage can be very different. We offer Therapeutic massage services in office because the combination of Chiropractic and Massage together has shown better clinical improvement from our patients.
How does massage help?
Here at Summit Chiropractic we offer massage services because it is a great way to relax and retrain tight muscles. Massage therapy has many potential benefits, including reducing muscle tension and pain, improving circulation, and promoting relaxation and overall well-being. It may also be helpful for conditions such as headaches, fibromyalgia, and carpal tunnel syndrome. Additionally, massage therapy can be used as a complementary treatment for mental health conditions such as anxiety and depression. However, it's important to note that massage therapy should not be used as a substitute for traditional medical treatment and it's always best to consult a doctor before starting any new treatment.
Are there different types of Therapeutic massage
Myofascial massage is a type of massage that focuses on the myofascial tissue (connective tissue that surrounds and supports muscles) to release tension and pain. Techniques used in myofascial massage include gentle stretching, deep tissue work, and the use of specialized tools such as foam rollers. The goal of myofascial massage is to restore normal movement and function to the myofascial tissue, which can improve range of motion, reduce pain, and increase overall well-being.
Can Massage help Whiplash pain?
Massage therapy may be beneficial in reducing pain and improving range of motion associated with whiplash injury. Whiplash is a type of neck injury that occurs when the head is suddenly and forcefully thrown forward and back, such as in a car accident. Massage therapy can help to alleviate pain by increasing blood flow to the affected muscles and tissue, which can promote healing and reduce inflammation. Techniques such as deep tissue work, trigger point therapy, and myofascial release can be used to release tension and tightness in the muscles and fascia of the neck. Additionally, relaxation and stress-reducing techniques may help to improve overall well-being and reduce the likelihood of chronic pain.