Herniated Lumbar Disc
Discs can become damaged for a wide range of reasons. Disc herniations can happen suddenly – sometimes with very little force placed on the disc. If the force of the injury is strong enough, either the spine may fracture or the disc can rupture. Bending over and lifting both place a great deal of stress on the intervertebral spaces, which can also cause the disc to rupture. 
The disc in-between the vertebral bodies is a gel-like cushion that acts like a shock absorber
between each of the bones. The discs allow the back to bend and flex. The function of the disc is to provide flexibility while still providing strength. There is one disc between each
bone. Each disc has a strong outer ring, called the annulus, and a soft, jelly-like center, called the nucleus pulposus. The annulus is the strongest area of the disc. Discs have high water content and, as people age, the content decreases. This causes the disc to shrink and become less flexible, and the space between the vertebrae to become more narrow.
Degenerative Disc Disease
refers to the loss of normal tissue structure  and function as a result of the aging process.  Degenerative disease may  also result in pain. Degenerative disease involves the intervertebral disc, the vertebral body, and/or the facet joint. There are many types of  degenerative disease including herniated disc, radiculopathy, facet joint  pathologies, cervical spondylitic myelopathy, and osteophytes (also known as bone spurs).
Disc Herniation
is when the nucleus of the intervertebral disc pushes out from the center of the disc. It may place pressure on the spinal cord or nerve  root causing symptoms.
Depending on the disc level, symptoms may include:
» Low Back and Leg Pain
» Neck and Arm pain – Radiculopathy (compression of the
nerve root)
» Myelopathy (muscle pain from compression of the spinal cord)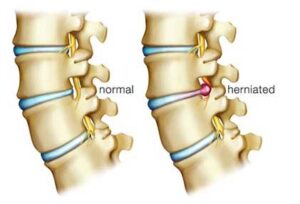 Diagnosis cannot be confirmed through a plain X-ray, because this only shows bony material and a
herniated disc is a problem concerning soft tissue. However, plain X-rays are important because
they will give your physician an idea of the wear and tear on your spine. The most common test to diagnose a herniated disc is an MRI scan, a painless test that is usually very accurate.
People with bulging and herniated discs can be pain free.
Research shows that it is possible to manage a disc herniation naturally without medications, injections and surgery. It does require finding exactly what is causing your pain and doing the right treatments to address the specific problem.
Successful non-surgical treatment involves pushing the disc herniation material forward away from the nerve and strengthening the stomach and lower back muscle to prevent the herniation from happening again.
Depending on your evaluation, treatments may include:
Appropriate home stretches
Muscle therapy to reduce stress on damaged area
Decompression therapy
Chiropractic adjustments to help reduce stress on disc
By: Troy Davis D.C, CDN, F.I.A.M.A.

View Larger Map