PRP (Platelet rich plasma).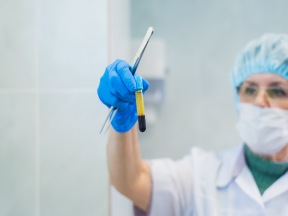 PRP injections, also known as Platelet-Rich Plasma injections, involve injecting a patient's own concentrated platelets into an area of injury or damage in order to promote healing and tissue regeneration. The platelets are obtained by drawing a sample of the patient's blood, which is then processed to concentrate the platelets before being injected into the affected area. PRP injections are commonly used in orthopedic medicine to treat conditions such as tendinitis, arthritis, and ligament injuries.
Your blood has three major components: Red blood cells, White blood cells and Platelets.  The platelets in your blood contain many bio-active proteins including growth factors which are key in tissue repair and wound healing. So, removing and using your bodies own platelets will increase the amount of the growth factors in an area of damaged tissue for repair.
PRP injections can help you body repair tissue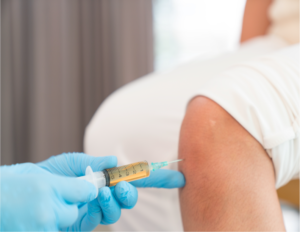 Platelets play an instrumental role in the normal healing response via the local secretion of growth factors and recruitment of cells that can help repair you own tissue. These activated platelets can show anywhere from 3.6 fold increase to a 6 fold increase in growth factor into an area.
Non-surgical evidence PRP studies for the following conditions:
Osteoarthritis
lateral elbow tendinopathy
Achilles tendinopathy
plantar fasciitis
patellar tendinopathy
muscle/ligament tears
discogenic back pain
Contraindications for PRP therapy:
Platelet dysfunction syndrome
Critical thrombocytopenia
Hypofibrinogenemia
Hemodynamic instability
Septicemia
Local infection at the site of the injection
Active cancer